Early Check-In & Vendor Pregame
Friday, April 14, 2023. 4pm-6pm.
Pick up your swag and wrist band. Athlete must be present to check in. Get early access to select vendors that will be present with products and services during early check-in. You may set up canopy tents and other items in Athlete Village. There will be overnight security on the premises, however we are not responsible for lost or damaged items left overnight.
Event Day Times
*Approximate times. Subject to change*
On-site parking lot and facility opens at 6am. Please do not arrive before 6am.
Youth Event: 7:00am-10:00am
Adult Event: 10:30am-5:30pm
Podium: Immediately following each event
Parking
On-site parking is available starting at 6am. The satellite lot at Dunedin High School (1/2 mile from venue) opens at 8am and will have a shuttle service to and from. ** See Map**
Parking Pass (Per Vehicle): All attendee vehicles require a parking pass – $10
Spectator Pass: Non-athletes above the age of 12 will require a spectator pass – $10 before April 14, $15 on April 15, or after
A portion of all proceeds will benefit the Dunedin Stirling Soccer Club, specializing in the development and growth of youth athletes. The soccer club will be on site assisting with the event.
Warm-Up
We will offer an on-site warm up area for athletes only. For safety reasons, only those registered to compete may enter this area.
Check-In
There is no designated arrival check-in time or athlete briefing. Athletes can arrive anytime before your WODs and check-in at the athlete check-in/swag pick up location anytime.
Please review all events and standards for each WOD.
Athletes are required to be at their workout event check-in location during the heat before your start time. Each event stage has its own designated check-in area and will have a banner at the check-in point. You may ask your staging manager or head judge if you have any questions prior to your WOD.
Heat Wave – Field Stage
Sun & Fitness Tri – Pool Stage
Tropic Thunder – Court Stage (Gym Stage for Adult-Youth)
96 In the Shade – Gym Stage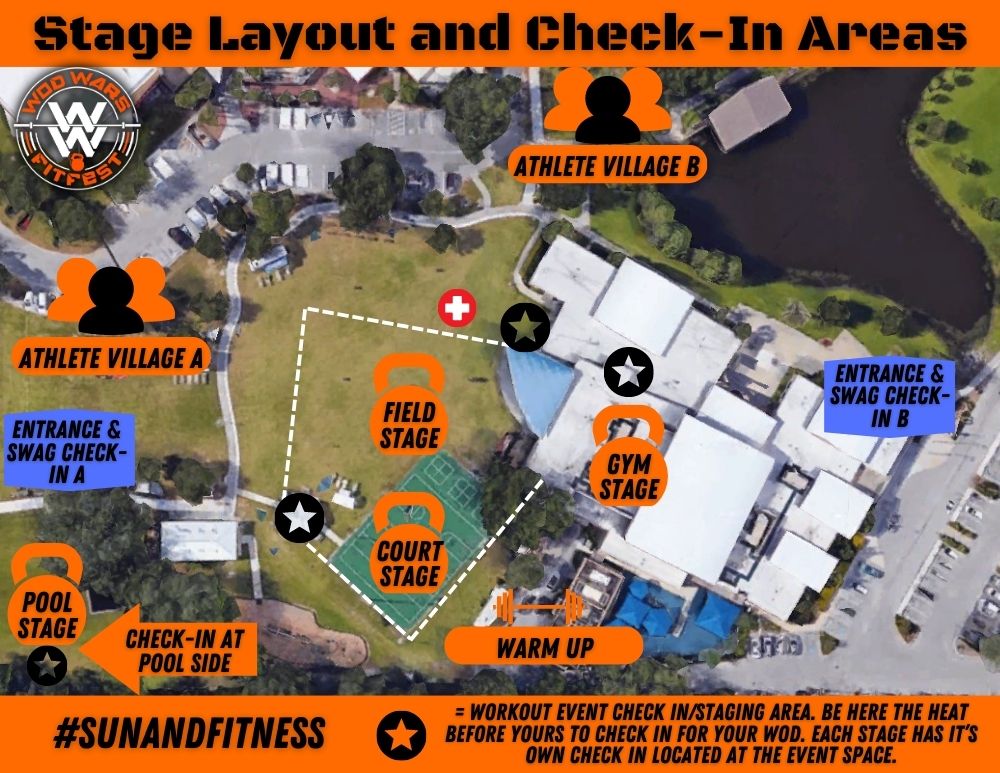 Scoreboard and Heat Times
NOTE: Tropic Thunder Adult Event is a Floater
Floater Time Frames
Duos: 10:30am-12:30pm
Trios: 1:30pm-4:00pm
*Please complete your floater in these windows. DO NOT WAIT. Get to the Basketball Courts ASAP and complete your floater on event day.

This info is updated in real time and available on Competition Corner by clicking here:
Photo Packages
Photo Packages available through Jay Knickerbocker Photography.
Conduct Policy
Please be courteous to our judges and staff. They are volunteering their time to make WOD Wars happen. All judges are briefed on event specifics and standards. WOD Wars has always been a fun and family friendly atmosphere. We have a zero-tolerance policy for swearing or disrespect to our team. Anyone who violates this will be disqualified from the event.